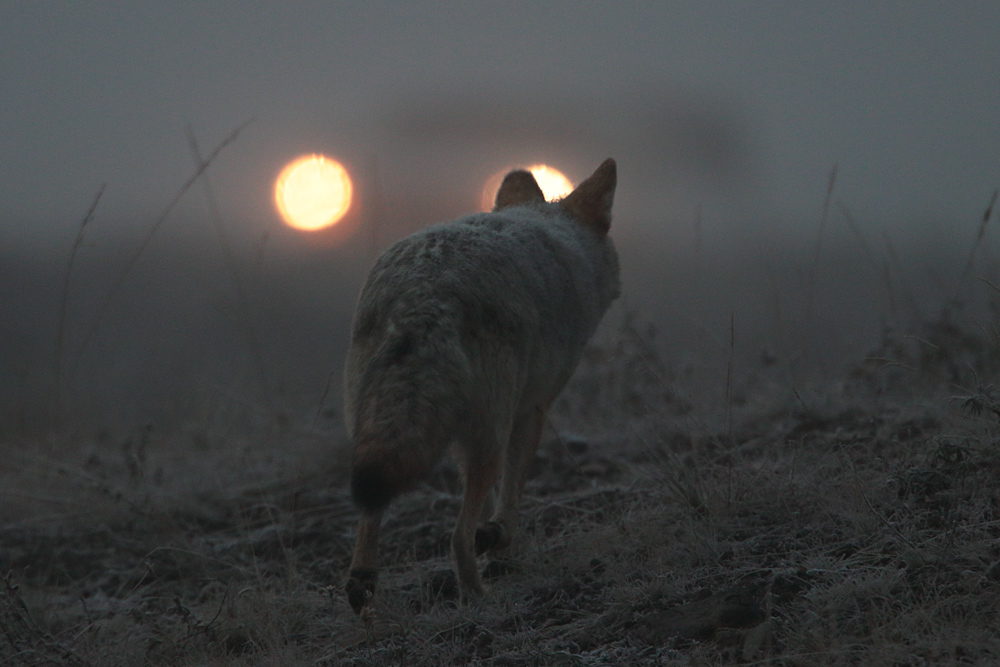 Day 6
Thursday, September 28, 2017
Early morning fog haunted us once again this morning.  It's not uncommon in Hayden Valley and we have experienced it on other trips, waiting for the Canyons or Haydens to appear while swathed in a cloud.  Today we didn't wait for the fog to lift and drove down through Hayden Valley towards Lake, searching for wildlife.  We stopped at a turnout not far from Grizzly Overlook to watch a coyote hop out of the flats near the river and cross the road, then disappear in the sage.  A lady from Montana who was looking for wolves told us it was a male and it had a family with two pups that lived in the area.  I walked down the road searching for the coyote's mate and pups, but did not find them.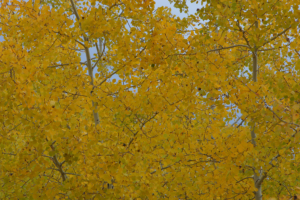 After driving around familiar places, we drove over Dunraven Pass.  At the turnouts below Mt. Washburn, there were crowds of people waiting for the Junction Butte Pack to appear. They were seen briefly on the north side of Mt. Washburn, but didn't reappear. Once we reach the Lamar Valley, Canyon seems more frantic and crowded.  Snow still lingers in Hayden and Canyon, while autumn is finally beginning to show its colors in the northern range.  Aspen slowly transform to fiery yellow while willows turn deep red.
There is a bison jamb on the Yellowstone Bridge.  A truck whizzes ahead and is then stuck, unable to move the bison and move forward.  Tim and I turn around and head back to Canyon.  Such a beautiful day and we wind up driving back and forth.  I don't let it bother me that wolves are not around.  I enjoy looking for coyotes, watching geese and swans, looking up to a perfect clear blue sky.
We knew it would be wet and muddy, but we hiked to Pelican Valley anyway.  The trail is mud, ice, or snow.  The mud is slippery and clings to our boots so when I can, I choose hiking through snow because it cleans my boots.  The first mile or so goes through a pine forest littered with deadfall.  We pass a couple of meadows blanketed with snow and studded with sage.  It is a slow slog up the trail, but once there, Pelican Valley shines.  Covered in white; snow glitters in the sun, almost blinding against the snow.  It's like Mother Nature suddenly threw the switch between seasons.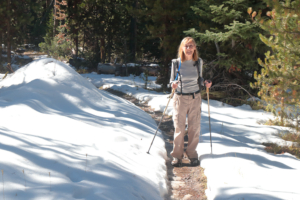 Post holing is fatiguing, but this is our one chance to see Pelican Valley after a couple of years.  No wolves, no bears, but plenty of tracks.  It's cold with the strong breeze.  We glass the mountains and foothills and the valley hardly moves.  Except for a few bison and a few hikers passing through, the valley is ours.  I wish we could stay longer, go farther, but the hike through snow is too tiring.  We return to the parking lot, clean off our boots in a snow puddle, and look for bears and wolves elsewhere.
Grizzly Overlook and the surrounding area is still packed with visitors, scopes pointed every which way.  The Wapitis are not in sight, nowhere to be found.  Wolves follow the groceries.  We set up our scope even though the odds of seeing a wolf are poor. When the light fades we head up the road and when we reach Cascade Meadows we turn in to look for elk.  A dark grizzly walks across the meadow at tree line and ambles into the forest.  We have seen a bear today.
Video from September 2017
These videos are recorded in 1080p so be sure and change your settings to HD.
Also, you may want to view them full screen.