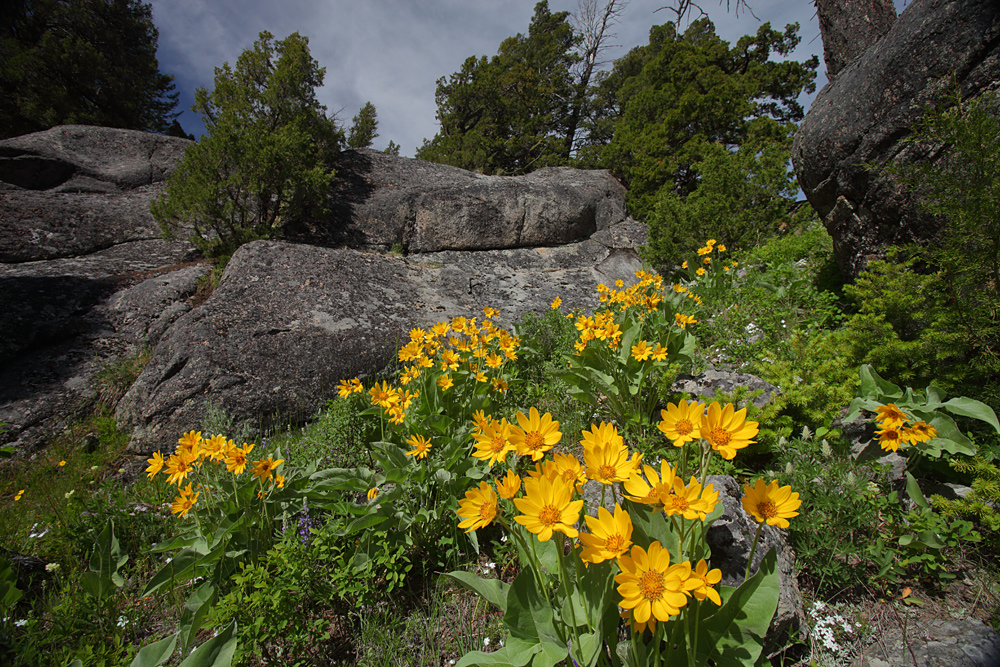 Day 7
Saturday, June 10, 2017
It was a cloudy, cold morning; the temperature did not get above 55, even when we reached Bozeman. I pulled out a warm hat and gloves for the first time when we stopped at Dorothy's to watch a grizzly sow and cub high on a snow patch on Specimen Ridge. Bison spread out across Lamar Valley, pronghorn dotted the hills of Little America, and deer peeked out from the edge of the trees at Warm Creek.
We stopped at the Children's Fire Walk to scan the Blacktail Plateau's never-ending expanse of rolling hills, green with grass and stands of conifers. The Eight Mile Pack lives here, but we have yet to see them. It's not easy with dips and rises obstructing view. The plateau is a beautiful place for wildlife and it's understandable why bears and wolves make it their home.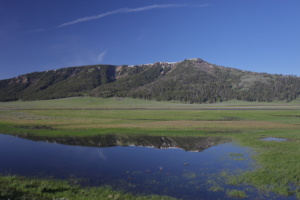 As we left the weather deteriorated, bringing clouds and rain. If we stayed a few more days we would have been driving around, looking for wildlife and wishing we could hike. Which made it a little easier to leave. We just had a perfect week, with plenty of good wildlife viewing and great hiking weather. I wish we could have seen the Lamar Canyons and the Wapitis, at least once. The Lamar Canyons may be avoiding the Junction Butte Pack who have moved into their territory. The Wapiti Lake Pack is like the Canyons. They den late and don't show up at the rendezvous until early June, and then only for short periods. With the addition of a couple of wolves from the Mollie group they are a new pack now. Sometimes I wonder about 755M and hope he is all right. And I am already thinking of September when we'll be back.
Videos from June 2017
These videos are recorded in 1080p so be sure and change your settings to HD.
Also you may want to view them full screen, otherwise you may not be able to see the wolf pups in the second video.
0:00 – 1:20 Junction Butte Wolf Pack
1:21 – 1:46 Rocky Mountain Goats
1:47 – 2:11 Bison in Lamar Valley
2:12 – 2:57 Black bear cub in a tree with an aggressive adult
2:58 – 3:17 Mated pair of Grizzlies high up
3:18 – 4:11 Junction Butte Wolves again
4:12 – 4:33 Pronghorn Antelope fawn
4:34 – 5:01 Moose calf
0:00 – 1:47 Junction Butte Wolf Pack
1:48 – 2:03 Black bear with cub
2:04 – 2:26 Fox and kit
2:27 – 3:24 Grizzly with cub
3:25 – 4:47 Wolf pups and Adults
The pups are small running across the screen following the adults.
4:48 – 5:12 Grizzly and cub
5:13 – 6:22 Wolves attacking a bison
6:23 – 7:00 Wolves chasing bison trying unsuccessfully to separate out a calf.