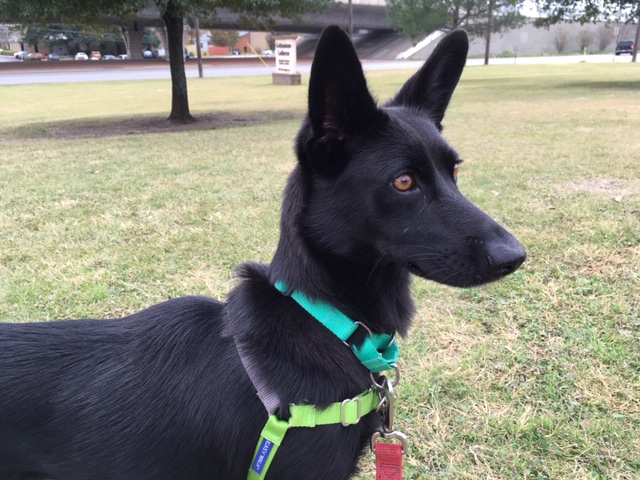 Sunday, December 2, 2018
            She is like a black fox; everything from her confirmation to the way she trots instead of walks.  The way she lifts a front paw when she spots a squirrel in an oak tree.  Her sleek and shiny coat is the color of midnight.  Foxes do not breed with dogs as do coyotes or wolves.  Still, the resemblance – the posture, her restlessness, how she hates to go back to her kennel.  Her life before this must have been outside.  She belongs outside.  Someone needs to adopt her so I don't take her home.  She needs to get out of the shelter. 
            It warmed up considerably the end of the week.  Days were sunny, windy and dry.  Tuesday, I left Willis out to graze after riding and was chatting with Suzi about the barn and watching Joe work with one of Stacie's very green horses when a bay horse shot by dragging his lead rope behind him.  He ran out into the pasture behind the main barn, running toward Willis' paddock.  Willis, who was quietly nibbling grass in the pasture, noticed immediately and galloped toward him, chasing the bay into a corner next to the paddock where both horses stopped suddenly and began to graze.  Joe dashed out of the round pen and calmly walked up to the bay and grabbed his lead rope while Willis trotted away.  Beth was already in the paddock getting ready to take T.J. out for a ride and swung the gate open, letting Willis trot in.  Once inside, Willis and his other paddock mate, Ashton, ran back and forth from gate to fence, fussing with each other and biting each other's face. 
           There I was trying to grab Willis' halter off of him and get the hell out of there.  Each time I got close, Willis would prance away, tail curved high in the air.  And there was Daisy, energized by all the speed and excitement.  It was a terrier's dream.  When Willis ran, she chased, exhilarated by it all and Zac, the barn's other Jack Russell, just ahead of her.  Willis does not like doges and Ashton – well, I don't know.  During the charging back and forth Daisy squealed loudly and I thought I'd lost my dog. 
            It took what seemed like hours to get the halter off Willis, all the while worried about Daisy.  When I finally closed the paddock gate and walked away, up the gravel bridge came Daisy, running toward me.  I thought I detected a limp, but she rolled over on her back and I gave her a good belly rub.  I bet she won't do that again.  But then she is a Jack Russell. 
            Friday I went out to the barn alone and walked in the woods next to Willis' paddock.  Where Kodi used to go.  There are lots of Yaupon Holly and oak trees, tall grasses and some fading wildflowers.  The grass is not overgrown now, though trees and branches block the paths in places.  Still the clearings are there, the same places Kodi liked to visit and hide when I was ready to leave.  Kodi loved it here. 
            There are a few bones half-buried in the soft dirt.  Feathers are scattered about – a duck someone caught.  Here is a whole different world within a world.  A world of wild dogs and escaped goats and hawks and owls.  Kodi's world.  It has been a long time since I stepped back into it.  I brought a marrow bone and placed it near a tree.  I don't know if I'll ever remember where I put it.