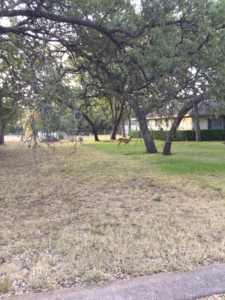 May 24, 2018
Summer has unofficially begun.  The cool mornings of April have warmed to 70º at 7 a.m. and the temperature gradually rises to the high 80s at mid-day, sometimes even 90º.  Sunday's rain cooled us for a while; the evening breezes sooth Daisy and I as we walk through the school yard in the evenings.  Everyone is out with their dogs or playing with a child in the playground.  I will miss this neighborhood.  I am having a hard time leaving, even though we are moving next to a greenbelt with deer and coyotes and fox.  I always wanted to live in a place with deer and fox.
Yesterday I walked to the mailbox in the new neighborhood and casually turned my head; there were four young bucks lounging in a neighbor's front yard.  They stared at me, still chewing grass, but didn't flinch.  I was the one who was startled.  On the way back I walked on the other side of the street to be sure not to disturb them.  It will be fun watching this herd day after day.
At the park last night I stopped to watch the martins as they darted in and out of their little apartments.  The males are shiny black while the females are faded with a gray breast.  They have a call that sounds like a buzz.  The females squeezed into the apartment entrances and stayed for a few minutes so there are probably hatchlings inside.  Purple matins migrate from February through May and July through October; I wonder how long they will stay in Brentwood.
Throughout the neighborhood wildflowers are blooming – coneflowers and Indian Blankets along with planted flowers like echinacea, cosmos, poppies, sunflowers.  Some of the oak trees along the arroyo are suffering.  Every other tree appears ravaged by ants or termites.  Years ago, Tree People cared for the oaks during the drought by placing bags of ice at the base of the trees.  Strange that this infestation affects every other tree.
Yesterday morning I found a bird's egg on the ground in the next yard.  It was pale pink and about an inch long with a very slight depression from its fall.  It felt quite heavy in my hand for such a tiny thing and I tried to imagine the life within.  A dove?  Maybe a bluejay?  I placed the egg under a bush and wondered if it would be there today.