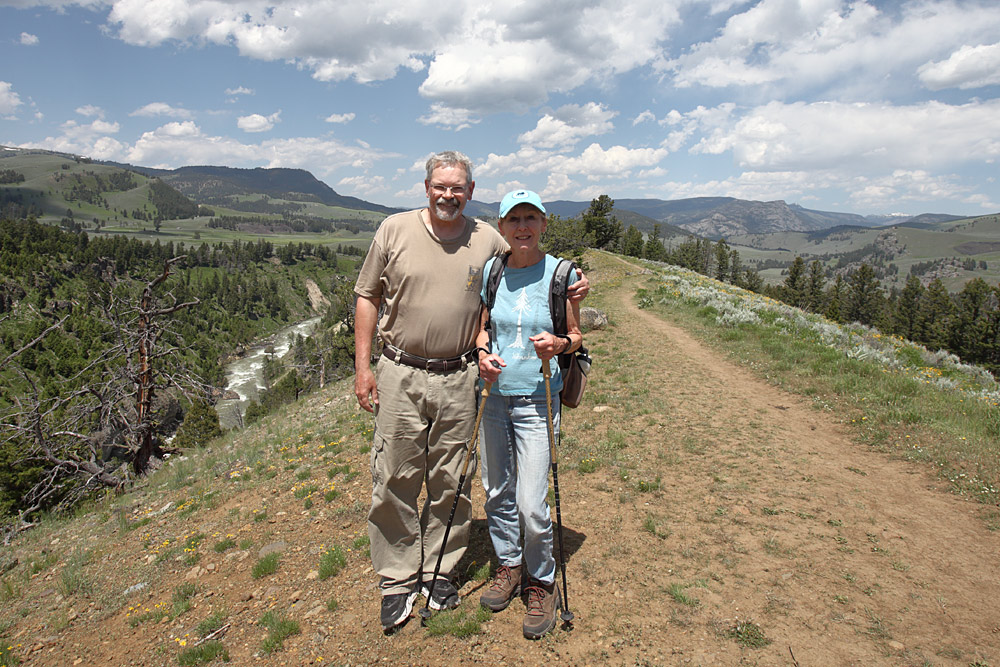 Day 7
Friday, June 8, 2018
Today was one of those days when it seemed like every place we went we just missed something – the Wapitis in Hayden Valley, two coyotes hunting and then running off before we could pull over to watch.  We drove all the way to Barronette Peak looking for moose and anything else and then down to Hayden Valley.  We did see a black bear at Petrified Tree this morning and two tall and majestic looking great blue herons fishing in Hayden Valley along the Yellowstone River.  The Wapitis were seen in their western rendezvous site from a hill that overlooks the valley, but by the time we hiked the long marshy path, they were gone.  There were four wolves running back and forth in the sage before a helicopter frightened them into hiding behind rolling hills and sage.  At least now we know another place to look for them.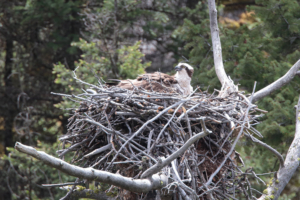 This afternoon we hiked out to Storm Point, a favorite trail with its swallows, marmots and wildflowers.  It felt cooler there and the wind kept the midges that normally torment hikers away.  A large marmot colony lives in the rocky mounds near the shoreline where they can be seen scurrying into holes, but today they hid from us.  Lake Yellowstone is high, shrinking its shoreline.  This is especially noticeable at Storm Point where a pier of rocks that stretched out into the lake is now almost completely covered with water.  Indian Pond has also swollen and the beach at Gull Point has shrunk.  Wildflowers cover the sandy cliffs at Storm Point and around the lake; they seem to like the sandy soil.  Wild blue flax, penstemon, lupine, sticky geranium, and cinquefoil scatter pink, blue and yellow through the sagebrush.  The relatively flat trail winds back through a pine forest and crosses a stream via a short, wooden bridge.  Heavy winter snowfall and rain left the end of the trail muddy and soft and badly damaged the bridge.  The only way to reach the other side was by stepping on rocks and climbing up the muddy slope.
Tonight we stopped in Soda Butte Valley, rolled down our windows and listened to bison snort and grunt.  Some calves clung to their mothers while other chased each other in circles.  Young bulls ran and played in the fields, kicking out and bucking while others sparred with each other.  It is surprising how playful bison can be, given their size and weight.