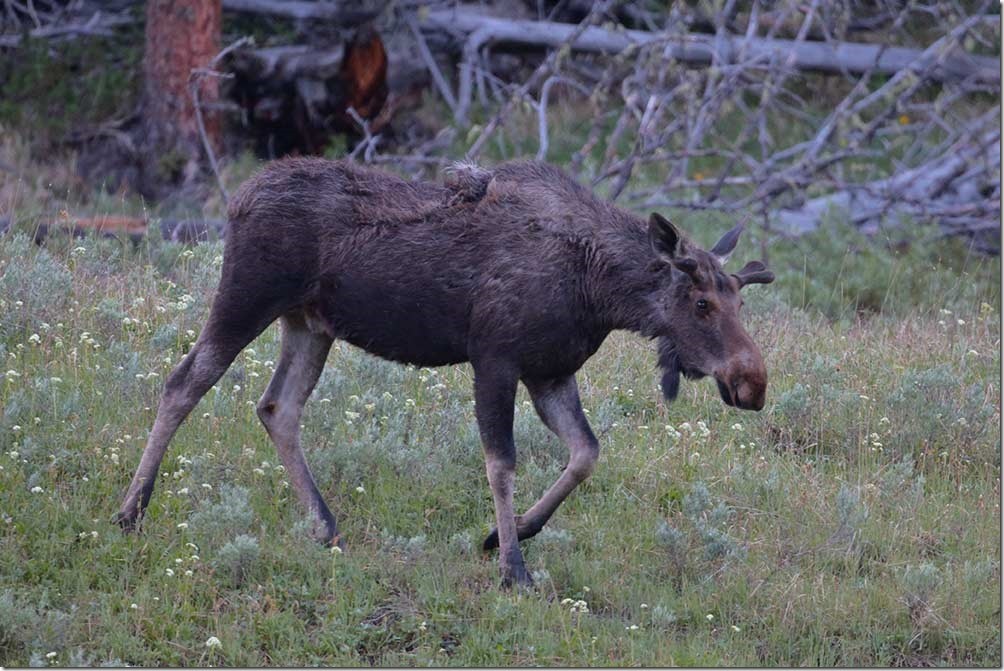 Day 4
Wednesday, June 16, 2021
It was 45º when we left Silver Gate this morning at 5:59 a.m.  The fox that greets us at the Northeast Entrance was running along the side of the road, keeping pace with a truck in front of us.  The fox carried his latest prey in his mouth, probably a vole or a mouse, bringing it back to the den.  We gave the fox plenty of space as he crossed the road, disappearing into the woods.
The marshes and woods where moose like to graze were empty of wildlife, but when we turned off into Soda Butte picnic area, a bull moose was munching on grass in the meadow; it is good habitat for him.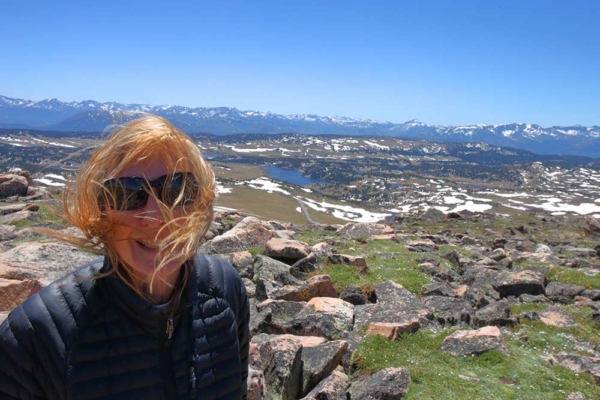 Lamar Valley was quiet except for bison and calves and some grizzlies foraging on top of Specimen Ridge.  We stopped at Slough Creek where we waited for the Junction Butte wolves to come out, but pups and adults stayed hidden the whole time we were there.  As we crossed Yellowstone Bridge a black bear climbed the hillside near the bridge, ignoring the crowd.  I am beginning to understand the true definition of a bear jam.  People actually left their cars in the middle of the road and went to watch the bear and take pictures.  It really makes me want to avoid traveling in the summer.
Turning around, we stopped to look for wolves in Lamar Valley again, even though we didn't expect to see any.  Someone said there were 9 Junction Butte wolves in the valley earlier this morning.  We looked and looked and Tim finally spotted a gray wolf.  Then we saw two blacks.  They disappeared quickly into the trees and though we looked hard, we couldn't find them.
It was promising to be very hot today so we drove up the Beartooth Highway.  It was about 68-70º in the mountains, snow still on the ground and piled up in drifts in some places.  We walked around on top of the pass, enjoying the alpine wildflowers and spectacular.  It felt so good to get away from the heat.
We saw four mountain goats, but no other animals.  A sign says it's "Grizzly Country," but there wasn't a hint of one, curiously; it seems like good bear habitat.  We walked a short, pretty trail that passed a beautiful waterfall and wove through a wooded area of tall pines.  It's beautiful on top of Beartooth Pass.  It really does feel like you are on top of the world, the plateaus filled with alpine wildflowers, many I have never seen before, and all the glacial lakes and ponds.  We even saw people skiing!
Tomorrow we leave early again for Hayden Valley and try to find the Wapiti Pack again, but it will still be good to get away from the heat.