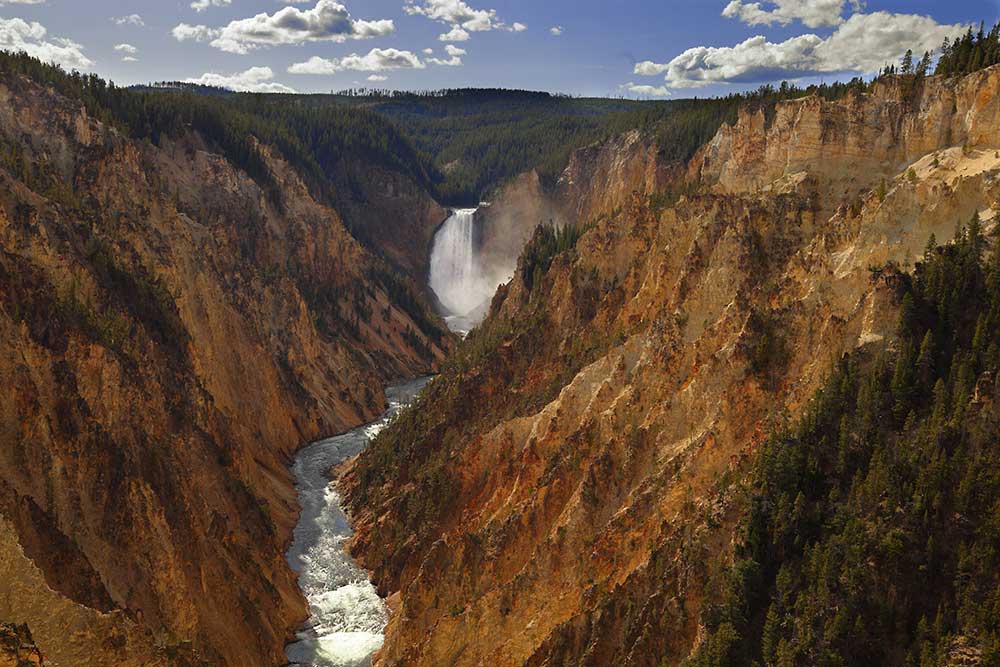 Day 2
Monday, September 23, 2019
The first morning of autumn was cold but sunny – 30º.  Yellowstone is taking its time changing color.  Some of the young aspen have turned bright yellow, while others are still green.  At Aspen turnout in Little America the tallest aspens are still green, or their leaves are drying up, turning brown, unusual for late September.  In previous years this week would have marked the end of fall color; instead, the trees have barely begun to change.  The cottonwoods along the river in Lamar Valley are still green, too.  Maybe it's still too warm.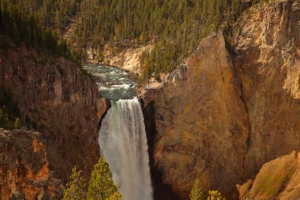 Wolves from the Junction Butte Pack are still hanging out in Lamar Valley near the bison carcass.  This morning we counted seven, though of course there could have been more hidden in the sage and deep grass.  I'm pretty sure I saw three grays that may have been 907F, 969F and a yearling.  I do not know these wolves.  I used to be able to identify alphas and other wolves through markings or habits.  I know numbers and colors and genders, but I do not know these wolves.
A black wolf moused in the grass while the other wolves bedded.  The wolves got up occasionally and walked around, but stayed away from the carcass.  Heat waves distorted viewing, so we headed west, stopping at a long turnout with a view of Jasper Bench.  Scattered in the green grass on the plateau were herds of bison.  I spotted a coyote mousing in the flats beneath the turnout, pouncing successfully on a few victims.  A healthy-looking coyote, he had a reddish-brown coat and a bushy tail.
We headed to Hayden Valley in an attempt to connect with some friends who were on their way to Cody.  Mt. Washburn is tipped with snow and the trail winding up the mountain to the fire lookout is now open after being closed for a long time.  Hayden Valley, green as a spring day, was quiet, devoid of wolves or bears.  Across from the Mary Mountain trailhead two bison posed at the edge of the river bank.  We scanned for bears and wolves at Grizzly Overlook, but saw nothing.
We pulled over when we saw a line of cars parked along the road bordering the woods next to Elephant Back Trailhead.  We heard it before we saw it – a juvenile great gray owl perched on a narrow branch of a lodgepole pine.  The gray feathers on the top of his head looked soft and fuzzy.  He flew from branch to branch, crying out every other minute.
We turned in briefly at Lake Hotel to try to get a signal on the cell phone, then drove across Fishing Bridge to Mary Bay and Sedge Bay.  Fishing Bridge has been repaired and paved over, but the rest of the road is still under construction.  We drove as far as Lake Butte Overlook looking for Raspberry and Snow, or any other bears.  Raspberry and Snow like to forage in this area, but, in the middle of the afternoon, it may have been too warm for bears.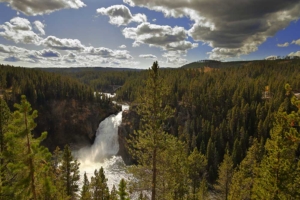 This afternoon we hiked the South Rim Trail along the Grand Canyon of the Yellowstone.  Paved, the trail runs through thick lodgepole pine woods while the canyon itself is a collage of pink, cream and tan.  In some places, spray from the river and falls creates vibrant rainbows.  The falls themselves are cascades of white water tumbling into the blue-green Yellowstone River.
We looked for the Wapiti Lake Pack, scanning from Grizzly Overlook and the hills behind it, but the pack eluded us as they did last spring.  I wonder if we will ever see these wolves again.  I think of 755M and wonder where he is now, if he is still alive.  The Wapitis have become another pack I do not know.
We made our way back through Lamar Valley where crowds gathered along the road and on hills looking for the Junction Butte wolves.  We wove our way through Round Prairie to Warm Springs as clouds gathered over Silver Gate.  Strange, but we haven't seen any elk yet this trip aside from the Mammoth elk or a single bull far away.