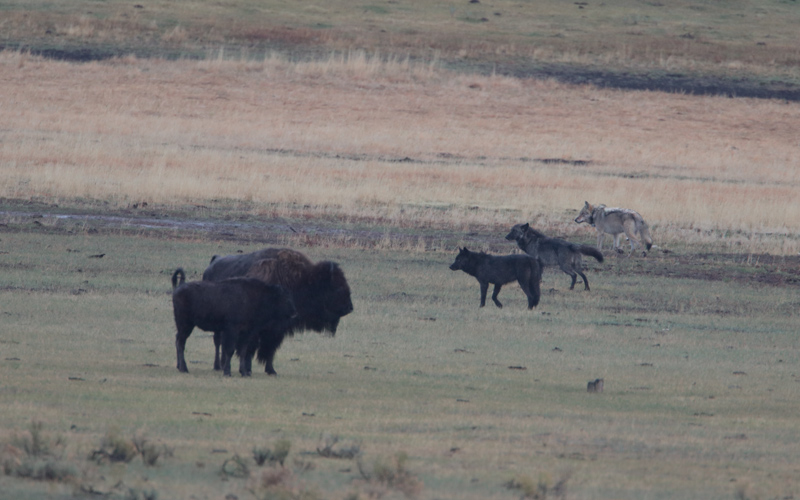 Day 1
Saturday, October 1, 2016
Light rain falls gently in the darkness.  It must be 45◦-48◦.  After the heat of Texas summer the cold is refreshing.  Coming into the Park feels like a burst of wakefulness after a long sleep.
Bozeman is 70◦ when we arrive and the sky is mostly clear as we wind past the Bridger Mountain Range.  In the distance, the mountains veiled by wispy clouds look like a painting.  Cottonwoods have turned yellow orange while pastures, still green, fade slowly.  I wondered what we would find in the Park after the fires, after the death of 911M and the displacement of 755M.  What will it be like this time is the question each trip.
The Arch is now secluded off to the side in its own special place away from traffic.  The Boiling River is open once again after last spring's high water, turnouts and parking lot crowded with vehicles and visitors.  Mammoth Hot Springs bustles with tourists even as the season winds down this last week.  Elk graze near the clinic and courthouse as always, next to the "Do Not Approach Wildlife" sign.  A bull nicknamed "Touchdown" has been charging cars and causing damage.  He may not have his antlers for very long if he keeps it up.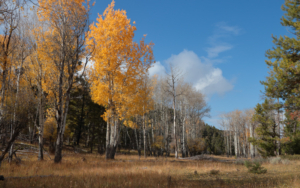 Aspen along the road past the Upper Terraces are fiery yellow; we made it just in time to catch the last of fall's colors.  Parking briefly at Swan Lake Flats, a fat raven waddles toward us with an inquisitive look on its face.  "Do you have food?" he seems to ask.  "Will you share it?"  The Flats are quiet while Bunsen Peak hikers head to Osprey Falls in a blustery wind.
Bison are scattered everywhere.  A large bull lopes in a tight circle across from Roosevelt corral, bucking and kicking.  He is not young so his playful exuberance is a little surprise.  Just up the road two big horn rams graze on the hillside above Rainy Lake.  Black bears frequently seen here are beginning to move back into the woods this time of year.  In Lamar Valley the light is fading and the sky slowly darkens.  No wolves or bears.  At Soda Butte picnic area, a bull elk grazes in tall grass across the creek, a dark brown shadow with white legs.  When we reach Warm Creek it begins to drizzle and by the time we reach the lodge rain falls steadily.  A fire burns in the outdoor fire pit, but not for long with the rain.  The creek looks low.  No bison in front of our door tonight.
The rain is welcome, ending the fires.  At Slough Creek the hills surrounding the den area are dark brown, grass burned away by the Buffalo Fire, but the triangle forest is still there as well as other stands of fir trees stretching out in horizontal lines.  The fires burned only grass, dancing past the trees, saving them.