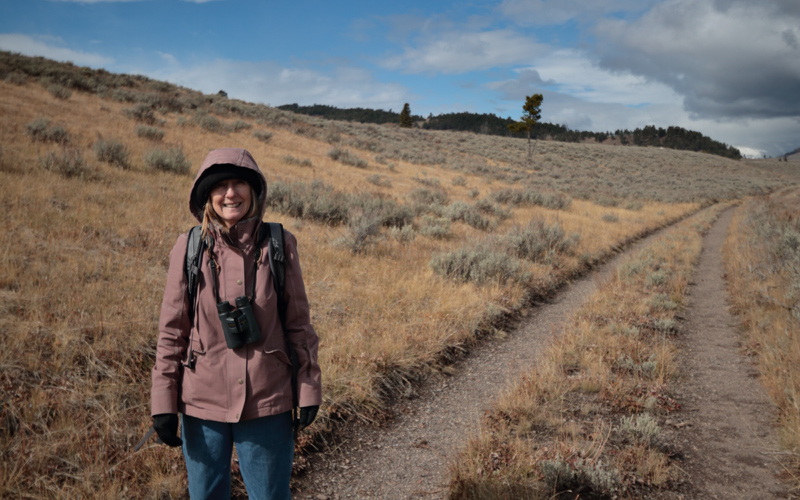 Day 8
October 8, 2016
The last day, the last morning, clouds leave and clear blue sky breaks open the Soda Butte and Lamar Valleys.  I am caught between the beauty of this morning and frustration that we will not be here to enjoy today's perfect weather.  A herd of elk moves slowly west across the valley on the south side of Lamar River.  It's the largest herd I've seen in Lamar Valley this trip.  A coyote feeds at the carcass under the cottonwoods; antelope prance through the flats or bed in the sage.
The Wapitis are out in Hayden Valley, seen on Mary Mountain Trail, but there's no time to drive there.  Instead we enjoy the glorious weather at Dorothy's and look for wolves, and socialize a little.  We make our way slowly through Little America where calves now five months old follow their mothers over rolling hills and across the road.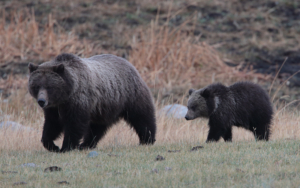 At Floating Island Lake, scotters dip their heads in the water, tails in the air.  The island has returned.  Last spring there was only a small lake; now a couple of grassy islands rise out of the water.  In Mammoth a cow elk and calf lounge by the administrative buildings while others graze across from Mammoth Clinic.  A bull whistles.  Suddenly a man grabs his young son when a bull elk charges past him chasing a cow.  The pair runs past the family, oblivious to anything but each other.  We were afraid we missed the rut – apparently not.
The hotel is closing this weekend and the lobby seems empty.  A few visitors enjoy the lobby fire and stroll through the gift shop.  We take a quick walk around, enjoying the elk and head down the road out of Yellowstone.  I look at the mountains – enormous, snow covered, and want to hold on to them.  Such a perfect autumn day.