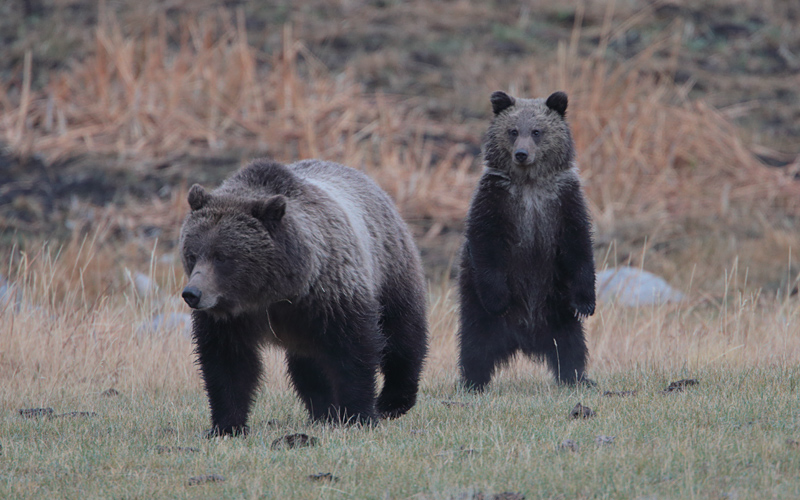 Day 5
Wednesday, October 5, 2016
It's 38◦ and snowing lightly when we turn onto the main road.  Fat white flakes pelt the windshield.  We drive through a flurry of white, past meadows where we have seen moose, past Barronette Peak and through Round Prairie.  We stop to watch a raptor standing in the grass.  Mostly brown and lighter on its breast, it could be a northern harrier.
Snow flurries swirl around us; Lamar Valley is a white world.  Just past Soda Butte cone on the south side of Lamar River, a black wolf trots across the grassy flats.  It stops and sniffs, circles, walks a few steps and continues east in no hurry, like it doesn't have a plan.  It meanders around then disappears behind a berm.
Laurie is parked at Trash Can and we stop to let her know what we've seen.  Earlier, about 7:43, a photographer saw two wolves, a black and a gray, cross from south to north.  They howled – bark-howled – at three black wolves on the other side.  The black and gray are believed to be 926F and 965M.  Not sure who the three blacks were, but Laurie thinks maybe the Prospect males.  She said 926F was nervous, afraid, after seeing photos and videos.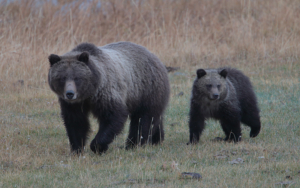 We wait around to see if a wolf shows up as clouds form in the west.  Dunraven Pass is open and the Wapitis are in Hayden so we head south across the pass.  By the time we reach Grizzly Overlook the Wapitis have bedded deep in the sage; they have virtually disappeared.  The sun is out, but an icy wind bites my face.  We head north to Artist's Point and walk along the river.  Snow is still falling from the tall pines along the path.  A rainbow arcs across the Yellowstone River at the lower falls.  Pine trees are coated with snow.  Coming from a state where winter is primarily a state of mind, it's delightful to walk in winter for a short while.
We return to Grizzly Overlook and wait for a wolf to stand up, sit up, lift its head.  The Mollies have moved in and displaced 755M – that makes me sad.  I always liked 755M.  I have hardly seen this new pack and now with the new Mollie members, it's a completely different pack.  We watch for over an hour in the icy wind.  In the flats across the river two large elk herds graze.  I counted 25 in one.  Obviously the Wapitis are in a good place.
Dark clouds hover over Dunraven, so we head back, worried the pass will close.  Dunraven is a little slick and there is a slight accumulation of snow, but the road is not bad.  The sun slinks back at Tower Falls and dark clouds slide in.  We pass a bighorn sheep jam at Yellowstone Picnic and drive into snow, tiny grains of hail and rain.  Wind blows clouds of icy rain into the windshield; white begins to coat the pavement.  On and off, as elevation changes so does the snow accumulation and rainfall.  With mountains and pine trees painted with white, it looks like a Christmas card.
By the time we reach Silver Gate, snow has changed to slow drops of rain.  The picnic table has a white table cloth and the lawn is covered by a blanket of snow.  The mountain across the road looms large and white.  Winter in October.