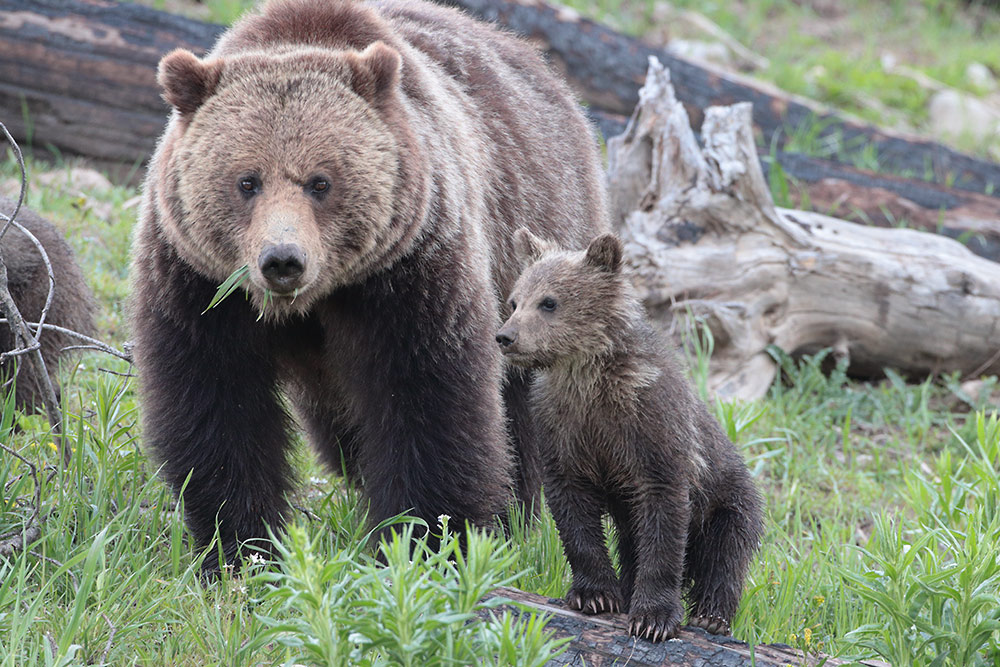 Another Great Trip to the Park
Day 6
Friday, June 14, 2019
A heavy mist enveloped the lake as we set out before 7 a.m.  Construction is ongoing from Fishing Bridge to Indian Pond, but we drove through without much delay, though slowly.  It's unfortunate that the construction has marred this area.  Sedge Bay and Mary Bay are hard to reach and the road is all torn up.
We looked for Raspberry and Snow, but saw only bison.  Sunrise is around 5:30 a.m., so the bears must be out early.  After driving well past Lake Butte Overlook. we turned around and headed to Hayden Valley where we were luckier.  A large grizzly was feeding on an elk calf carcass at the edge of the river.  He was a handsome dark brown, sprawled out with his legs behind him.  From our position overlooking the river I could even see his long, white claws.  Dark clouds loomed overhead and cold drops of rain began to pelt us.  At first it was a light rain but gradually increased, and we rushed to gather up the scope and camera before being drenched.  By the time the rain let up, the grizzly was ambling up the slope.  Bad luck, but we got a good look at him.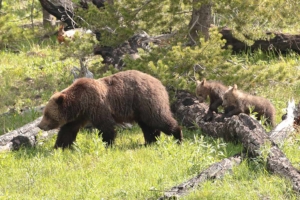 The sun came out and we drove past Norris Junction toward Obsidian Creek where we saw the two two-year old cubs yesterday.  The Obsidian Bear and her two coy were foraging on the east side of the road.  She is one of the most beautiful bears we have seen; a light brown color with a light brown face.  Her cubs are a dusty brown with dark black brown eyes.  Rangers say she is small, but she didn't look small to us.  They call her "Mini-Mom" and say she has an explosive personality having charged several people.  The cubs follow her, imitating her every motion, learning.  She grubs and they grub; she tears open a log to expose ants and they hop on the log and paw up the ants.  The bears were in view for more than one hour as they foraged in the grass, nursed and traveled over logs.  Rangers did a good job of keeping the crowds in line and at a distance before hazing the bears with a firecracker gun.  It surprised everyone!  But it was necessary as the sow and her cubs were very close to the road.
Later this afternoon we drove past Sedge Bay and Mary Bay, again looking for Raspberry and Snow, and found a crowd watching a boar sleeping in the trees and deadfall where the mother and daughter pair liked to forage.  He napped for a long time, every once in a while twitching his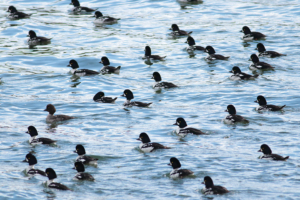 ears.  When the bear finally lifted his head and rose to all fours, it was obvious how big he was.  He waddled through the trees on thick legs and scratched his back on a tall pine tree.  One ranger said this boar courted Raspberry this spring, so Raspberry may have cubs next year.  I asked a ranger if the Obsidian bear was related to 264 and she didn't know.  The Obsidian bear is about 10-12 years old, maybe too young to be 264's daughter, but could be a granddaughter.
It rained off and on the rest of the day so we took short hikes at Mud Pots and around the Lake meadows where cow elk like to bed.  There are signs everywhere warning of aggressive elk, but we were surrounded only by Steller's jays, white-crowned sparrows, violet-green swallows, mountain chickadees, and killdeer.  Near Bay Bridge, three healthy looking bull elk bedded in the woods, their antlers still covered in velvet and growing.  Elk antlers are the fastest growing antlers in the deer family which includes deer, elk, and moose and can grow up to one inch per day. Tonight we were out after 9 p.m., still watching wildlife.  Once darkness begins to fall, it's hard to see anything.